The Beta Is Over [Updated]
Tue, 04-Mar-2014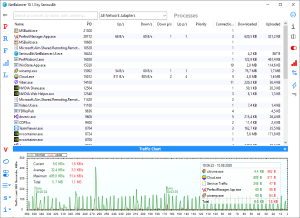 After a year of development we're finally ending beta and today are announcing the first production-ready version of NetBalancer Sync Service and the release of NetBalancer 8.0.
In addition to boatloads of usability improvements and bugfixes, the release version of Sync Service gets a REST API and a general statistics page. The API contains almost all website's functionality and is primarily oriented to developers who want to integrate the Sync with existing IT systems. The statistics page contains aggregate statistics for all user's machines. Any feedback for these additions are warmly welcome!
NetBalancer 8.0 App also features multiple improvements, the most important of which are:
Added an application-wide Save/Load menu for Settings, Rules, Filters and Priorities.
Added predefined priorities for most known or used applications.
Added proper detection of Windows Modern (Metro) applications.
Added "command line" parameter to rules.
Added filtering functionality to connections list, you can now filter out all local connections, show only IPv4 ones etc.
Added country and flag column to connections list, so you can see what country an application connects to.
Added columns "Packets" and "Packets/s" to rules list.
Added columns "Data" and "Data/s" to filters list.
Added "Hostname" column to connections list.
A DNS address can be specified instead of an IP to rules.
Added a "Search" box to rules, you can search a rule by name or any other property, useful when have lots of rules.
Added "Last Active At" column to filters and rules list.
Inactive filters and rules are grayed out.
Added "Browse" button to rule edit window at "Process Name" textbox.
Added "Modify", "Delete" and "Clone" mouse right-click menus to filters and rules lists.
Added "peaks" to mini-window and toolbar window graphs.
Added "Disable Balancing" option to Menu>Edit.
Toolbar window and tray mini-window settings are now synchronised.
Showing PID in toolbar "Top Apps", ex.: "explorer.exe [2341]"
Implemented Ctrl-Up, Ctrl-Down, Enter and Ins keys functionality for rules and filters lists.
Added "Export to CSV" option to traffic chart's right-click menu.
Thank you to all users who provided feedback during the beta and helped to shape the service and app to their current form!
Update 26 March 2014: NetBalancer App updates to v8.0.3 with many stability improvements.
Download NetBalancer App or register a free account.
And, of course, we are announcing the final availability of our service to the press, find the press release below:
press release
SeriousBit Launches NetBalancer Network Management Service With REST API Support
SeriousBit announces the final release of NetBalancer Service, a network controlling, monitoring and management software complex, now featuring REST API support for easier integration of the service into a system. NetBalancer provides easy remote setup, maintenance, filtering, prioritizing and configuring of a network locally and via Web.
Full control over network traffic means stable operation of all running applications, balanced traffic load and overall reliability of the system. NetBalancer 8 recently released by SeriousBit is an efficient dashboard and command center providing such control over network traffic from top to bottom. And now with a long awaited NetBalancer Service finally out of beta.
Whatever an issue might strike a network, NetBalancer helps locating the source of the problem and quickly eliminating it. With flexible filtering and traffic rules, priority assigning, bandwidth limits and other tools, the program is indispensable in maintaining the operation of a corporate or home network. And the new NetBalancer Service has already been acclaimed by thousands of users since the launch of the beta in September 2013. The service greatly simplifies control over network preferences via Web and works in any modern browser.
NetBalancer 8 features a lot of usability improvements for even easier operation, and adds a number of new filters and rules for more precise control over traffic flows. The focal point of the new update, however, is the support for REST API. The API allows for much simpler and efficient integration of the NetBalancer Service to any existing system or infrastructure – a feature many corporate system administrators and advanced home users will give credit to.
"We are proud to announce the final release of NetBalancer Service", concludes Ruslаn Sоlоgub, senior developer at SeriousBit. "With it, managing complex networks becomes easier than ever before, and over 10,000 network administrators have already appreciated it".
Pricing and availability
NetBalancer works on Windows XP and higher, both 32-bit and 64-bit. The service works in any modern browser. The application costs $49.95 with free upgrades for one year included. The subscription cost for NetBalancer Service starts at $9.99/month for up to 10 computers, other plans, including a free one, are available at https://netbalancer.com/pricing
About
SeriousBit was founded in 2007. The company focuses on system maintenance software as well as Internet solutions. Among titles offered by the company are the EnhanceMyOS tweaking and tuning product line including EnhanceMy8, EnhanceMySe7en, EnhanceMyVista, EnhanceMyXP and UndeleteMyFiles. Many of these products gained positive reviews in the press.
Links
Company website: http://seriousbit.com
Product website: https://netbalancer.com
Download: https://netbalancer.com/download
Contacts
Name: Ruslаn Sоlоgub
Company: SeriousBit SRL
Phone: +37379453294
E-Mail: contact@seriousbit.com