NetBalancer 8.5 with Predefined Priorities
Thu, 11-Dec-2014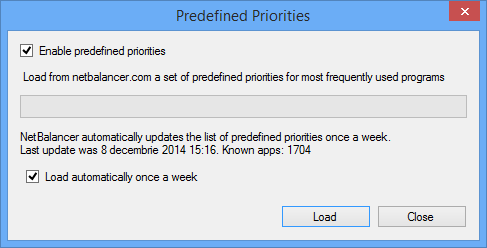 For those of you who are not sure what priorities are best for your PC we decided in NetBalancer 8.5 to add some predefined priorities.
These priorities include the most used programs and processes, currently about 1700 total (and counting), and are set to match the needs of most users, but of course there are always exceptions, so feel free to change them to your own requirements, or event completely disable them if they are too disconnected from your setup.
The predefined priorities are loaded online automatically every week from netbalancer.com and can be enabled or disable from "Menu>Edit>Predefined Priorities" at any time, and they will not overwrite any manually edited priorities.
Try the new predefined priorities.