NetBalancer 8.7 with Rules Templates
Wed, 15-Jul-2015
NetBalancer's traffic rules are quite flexibile but also hard to understand at first, so in version 8.7 of NetBalancer we decided to add a few rules templates, which will serve as shortcuts for creating new rules and also as a starting point at learning the rules system for our new or unexperienced users.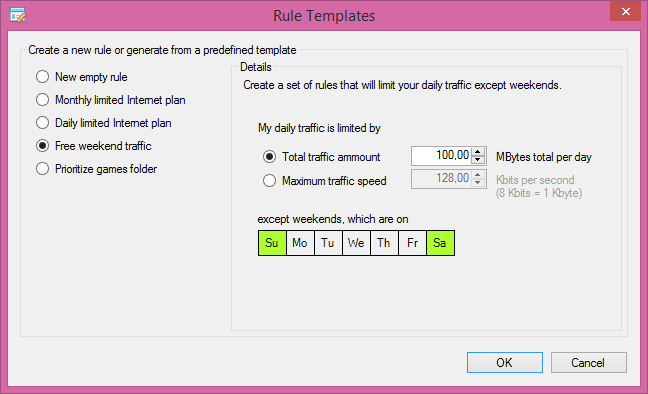 The rules templates are located at Menu&gtEdit&gtRule&gtAdd.
Other changes in this release are:
Added better support for PC power events (sleep, hibernate, shutdown, restart).
Added "Show on Mouse-Over" option to taskbar window so the window can be disabled now.
Fix taskbar window freeze on PC restart with option Keep Visible enabled.
Added license verification before new version notification, so if the new App update is not eligible for the existing license then a warning will be shown.
Improved overall performance.
Fixed some other minor and rare bugs.
Download NetBalancer
latest version, 4.1 MB
Order NetBalancer App
$49.95, discounts available