NetBalancer 8.9 Improves Performance
Wed, 16-Sep-2015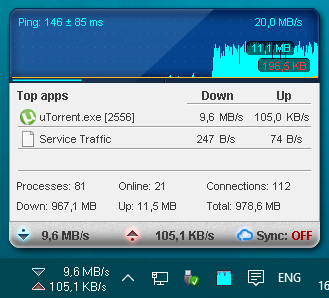 Version 8.9 is all about performance improvements: we've tried to minimize all expensive operations in NetBalancer (like system calls, locks, context changes etc.) and add as much batch processing as possible.
So now NetBalancer uses up to 50% less CPU on traffic intensive computers, keeping the same low latency as before.
Update 8.9.1 - 8.9.7: Done the traditional post-release fixes, and also added some UI customizations to the toolbar widget, including a more native look and feel on Win8 and higher. Restart the PC after update for the widget to be renewed.
Download NetBalancer
latest version, 4.1 MB
Order NetBalancer App
$49.95, discounts available