NetBalancer 9.1 with Anti-Telemetry
Thu, 12-Nov-2015
Windows 10 is a really impressive piece of engineering with great functional additions, one of which is named Telemetry Data Collection that improves the features and overall experience of the operating system through automated uploads of data.
As it frequently happens not all users are happy of this addition, especially the privacy concerned ones, so in this release of NetBalancer we added a new Anti-Telemetry rule template that creates a rule blocking all Microsoft IP (internet protocol) numbers known to be used for telemetry data upload.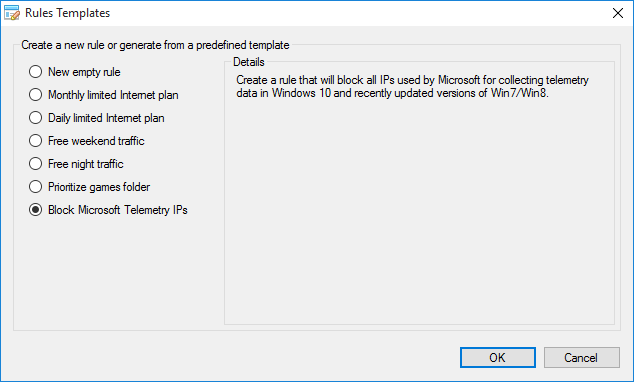 Also version 9.1 adds manual maximum bandwidth settings and improves the UI of taskbar toolbar for a more native look.
Update 9.1.2: Fixed a security issue when the wrong netsh.exe could be called if placed inside NetBalancer's directory. Many thanks to Jake Williams from Rendition Infosec for reporting it.
Updates 9.1.3, 9.1.4: Fixed various minor bugs.
Download NetBalancer
latest version, 4.1 MB
Order NetBalancer App
$49.95, discounts available