NetBalancer 9.3 with Top Statistics
Mon, 30-May-2016
Version 9.3 adds another statistics module, namely Top Statistics, located in "Menu>Statistics>Tops...".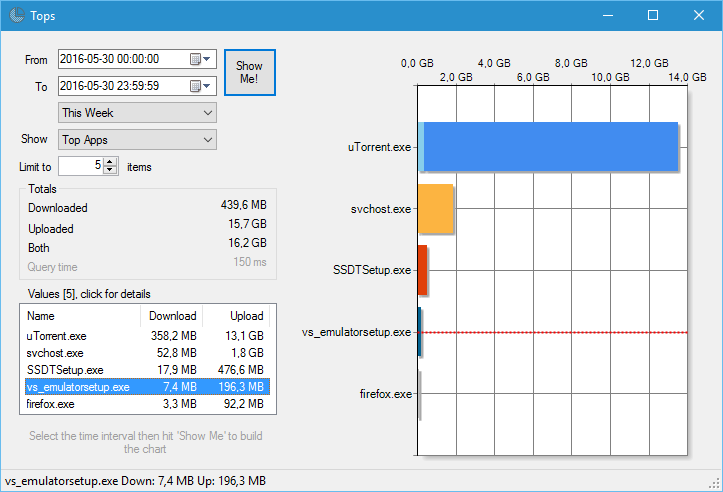 As you can see on the screenshot above these stats show the top applications that were using Internet for a given interval of time, and remote IPs, countries and protocols that were used the most for that interval.
Also we've done some small fixes and performance improvements as usual.
And the last update is not a very pleasant one: starting with v9.3 the unregistered version of NetBalancer will no longer offer any free priorities, rules or filters, but only monitoring functionality.
The reasons we are restricting it are simple: our small company of 3 persons has lots of free users who are asking questions and request help from the support team (that is currently just me, Ruslan :) but who never plan to actually buy the product, as a result the support is mostly provided for free, spending work and time which can much better be invested in NetBalancer's development instead.
So we decided to make this move in order to make NetBalancer more sustainable from a business point of view, which in return will help develop it faster and better.

Update 9.3.2: Fixed a 'file missing' error.
Update 9.3.3: Fixed Top Statistics to show correct upload and downloads values.
Download NetBalancer
latest version, 6.0 MB
Order NetBalancer App
$49.95, discounts available