NetBalancer 9.8 Adds Virtual Connections
Wed, 07-Dec-2016
Some programs, like antivirus solutions, firewalls or advanced torrent clients use special techniques, like 'local proxy' or tunneling, to redirect all local PC's network routes and connections to their own process for further inspection and analysis, and then redirect it back to the original client process or connection.
In NetBalancer this looks like all PC's traffic is consumed by the antivirus, making it harder to monitor and analyze, or to create priorities and rules.
To improve this situation NetBalancer 9.8 restores the original connections and marks them as virtual connections.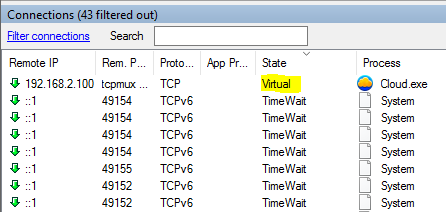 It does NOT affect the real state of redirection, just makes it easier to manage the traffic inside NetBalancer.
This functionality is enabled by default and can be disabled in Menu>Edit>Settings>Virtual Connections.
Update 9.8.2-9.8.4 - Bug fixes.
Update 9.8.5 - improved memory consumption.
Download NetBalancer
latest version
Order NetBalancer
$49.95, discounts available