NetBalancer 12.0 Adds VPN Support
Thu, 03-Aug-2023
In a significant development, we are thrilled to announce the addition of experimental VPN support to NetBalancer. This major update is effectively making NetBalancer the most advanced VPN software on the planet aimed at providing a more secure and private internet experience to our users.
Starting today, all registered users with a current license, not older than a year, can access our VPN service at no additional cost. This is part of our commitment to continually provide value to our loyal users.
At present, we offer a handful of OpenVPN servers located in the USA, UK, Australia, France, and several other countries. We understand the importance of a wide server network for a robust VPN service, and we are committed to expanding our server list in the near future. Additionally, we are exploring the possibility of supporting more VPN protocols, besides OpenVPN.
Users can easily locate the VPN servers on the Explore map in the NetBalancer User Interface (UI). To connect, simply click on a server to view its properties, and then hit the 'Connect' button.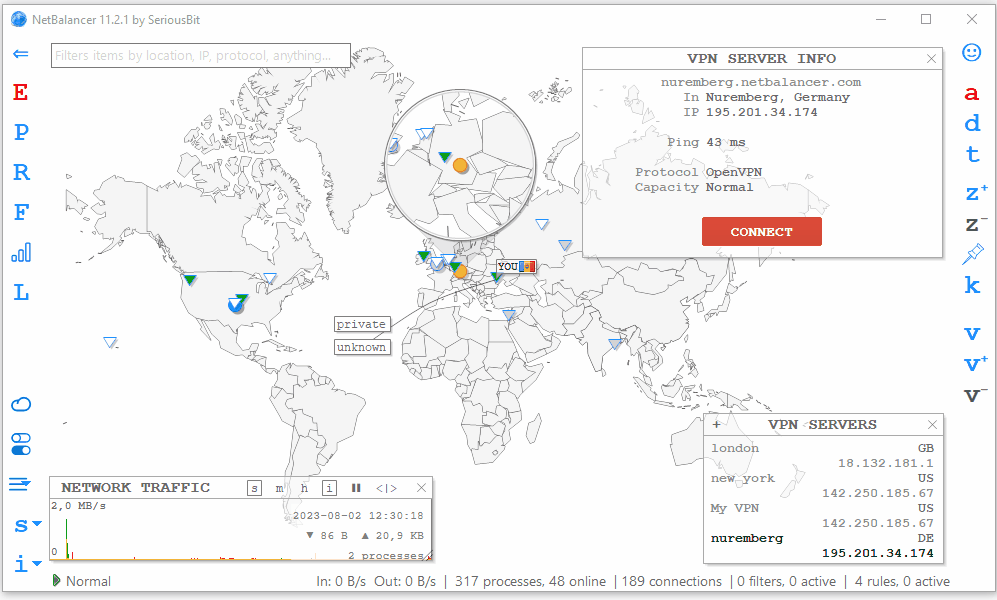 However, it's important to note that currently, P2P traffic, including torrents, is not allowed. We are working on this and expect to support it in the near future.
In a move to provide more flexibility, users can also add their own or third-party OpenVPN configurations to the NetBalancer UI. These configurations can be used in the same way as the pre-included ones.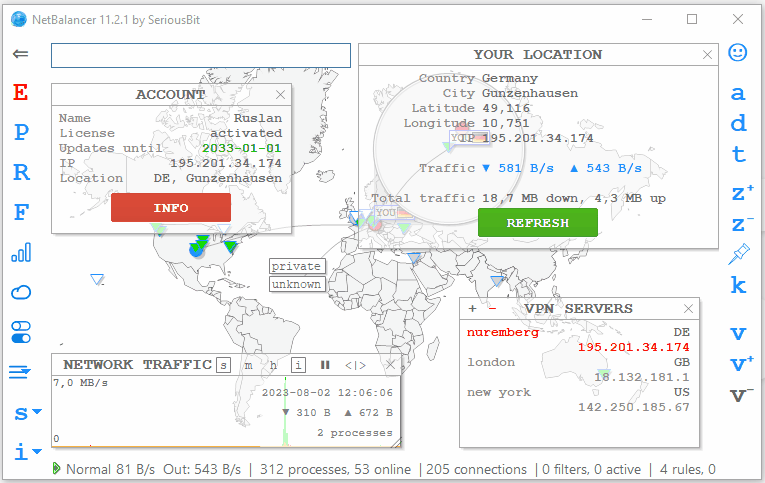 We have also updated the NetBalancer traffic rules to consider the VPN state. For instance, users can create a rule that allows internet access to Firefox only when a VPN connection is active, or specifically when a certain VPN server is connected. The programmatic rules also now include the VPN context variable.
With the integration of VPN awareness, NetBalancer's traffic rules have become even more flexible and powerful. Users can now easily tailor their network behavior based on the VPN connection status. For example, implementing a VPN Network Lock (aka Kill Switch) is now a straightforward task that can be achieved in just 4 lines of C# code (or just 2 clicks using our Rule Templates engine):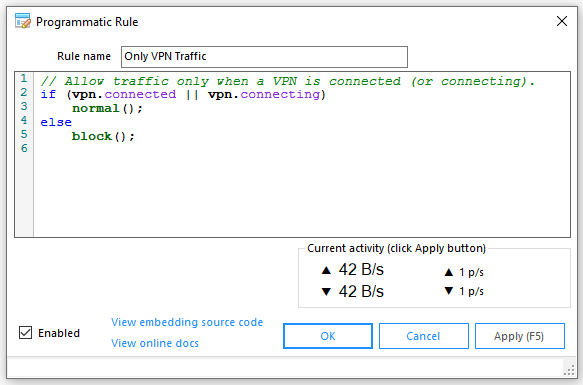 This enhancement adds a new dimension to network control, allowing users to create more dynamic and responsive rules that adapt to their VPN connection state.
As VPN support is an experimental feature, we are eager to hear from our users. Your feedback is invaluable to us, and it will help us refine and improve this feature further. We encourage all users to share their experiences and suggestions.
We, at SeriousBit, are excited about this new feature and believe it will significantly enhance the NetBalancer experience. We look forward to your feedback and to making your internet experience even better.
Head over to netbalancer.com/download to learn more about NetBalancer 12.0 and download the latest version today!
Download NetBalancer
latest version
Order NetBalancer
$49.95, discounts available