NetBalancer 8.6.1 [Updated]
Thu, 02-Apr-2015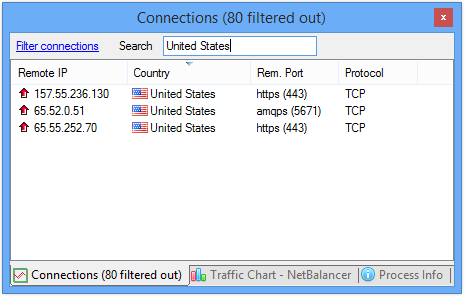 Jokes aside v8.6.1 is still a major release version with some improvements and new features:
Added a search box to connections panel, which helps find connections by IPs, Ports, countries... virtualy anything.
Improved the delaying algoritm, now it will be more precise at small values.
Added "End Process" and "End Process Tree" options to processes' context menu.
Fixed a bug blocking all traffic when the Delay value was 5 ms or smaller.
Fixed the look of UI, toolbar and mini-window at high DPI settings.
Fixed a bug in NBCMD priority edit command.
Fixed some other minor and rare bugs.
Update 23 Jun 2015: v8.6.5 Updates Portuguese BR translation.
P.S. The 30% discount offer is still available util tomorrow, for those of you who thought that this was also a 1st April joke (it wasn't).
Download NetBalancer
latest version, 5.1 MB
Order NetBalancer App
$49.95